The Lavaman swim starts off with a beautiful 1500 meter (.9 Miles) Pacific Ocean swim that starts at Anaeho'omalu Bay at Waikoloa Beach. Water temperatures range from 77F to 80F with depths to 65 ft. The entire course is guarded by kayaks, canoes, paddle boards, and rescue jet skis with sufficient water safety patrol.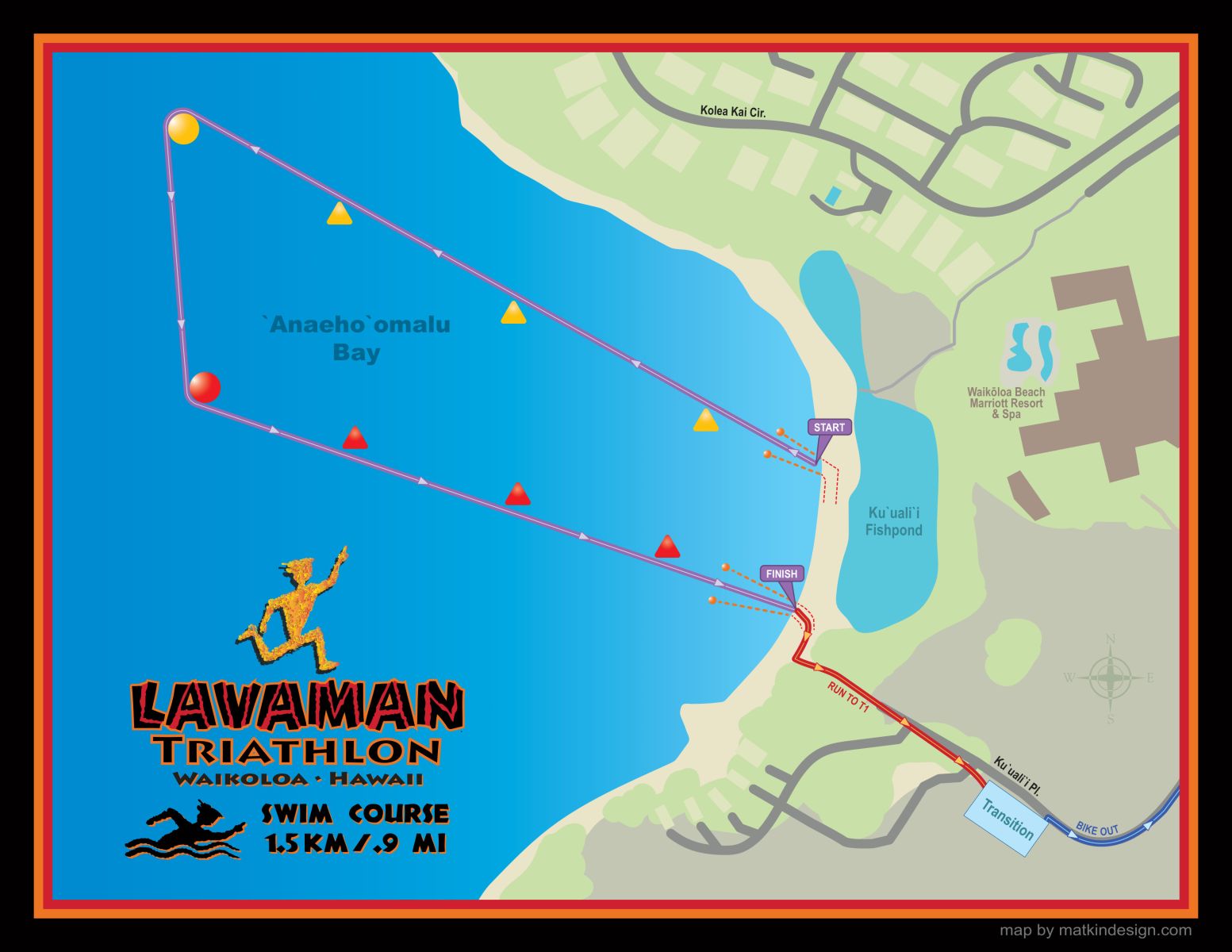 RULES
All swimmers including relays will self-seed themselves according to their anticipated swim time. Please look for volunteers holding signs.
Swimmers may wear, but shall not be required to wear, swim goggles or face masks. Snorkels are no longer legal.
Wetsuits – legal up to and including 78 degrees. Wetsuits may be worn between 78 and 84 degrees but participants will not be eligible for awards or prizes. No wetsuits allowed for water temperatures in excess of 84 degrees. For more detailed information and allowable wetsuits see USA Triathlon Rules https://www.teamusa.org/usa-triathlon/about/multisport/competitive-rules
Illegal Equipment – Any swimmer wearing any artificial propulsion device, including but not limited to fins, gloves, paddles, or floating devices of any kind shall be disqualified. Snorkels are no longer legal and will result in disqualification.
Bottom Contact and Resting – A participant may stand on the bottom or rest by holding an inanimate object such as a buoy, boat, rope or floating object. Excluding the bottom, a participant shall not use any inanimate object to gain forward progress. A violation of this section shall result in a variable time penalty, unless the Head Referee in his/her sole discretion determines that (i) the violation was substantial and resulted in an unfair time advantage.
Emergencies… a swimmer experiencing difficulty and in need of assistance shall raise an arm overhead, and pump it up and down, and call or seek assistance. A swimmer, who has received official assistance, whether voluntary or involuntary, must retire and withdraw from the remainder of the race unless such assistance did not aid the swimmer in making forward progress. No swimmer shall return to the race if the official rendering assistance requests that the participant withdraw from the race or receive medical assistance.
Swim cut off is 70 minutes from entering the water. The swim course will close 70 minutes after the last swimmer enters the water.
Upon exiting the water from the swim there is 500M run to the Transition area. This section is part sand, and concrete. There are water pools to rinse feet if desired.
The Lavaman Waikoloa Triathlon bike is a 40 Kilometer trek on a portion of the Ironman World Champion Bike Course on the bike lane shoulder. The turn around is through a tunnel under the highway. Police, course volunteers and course Marshals will be on course to assist. For your SAFETY, please listen and follow their directions at all times. Please refer to the course map for details.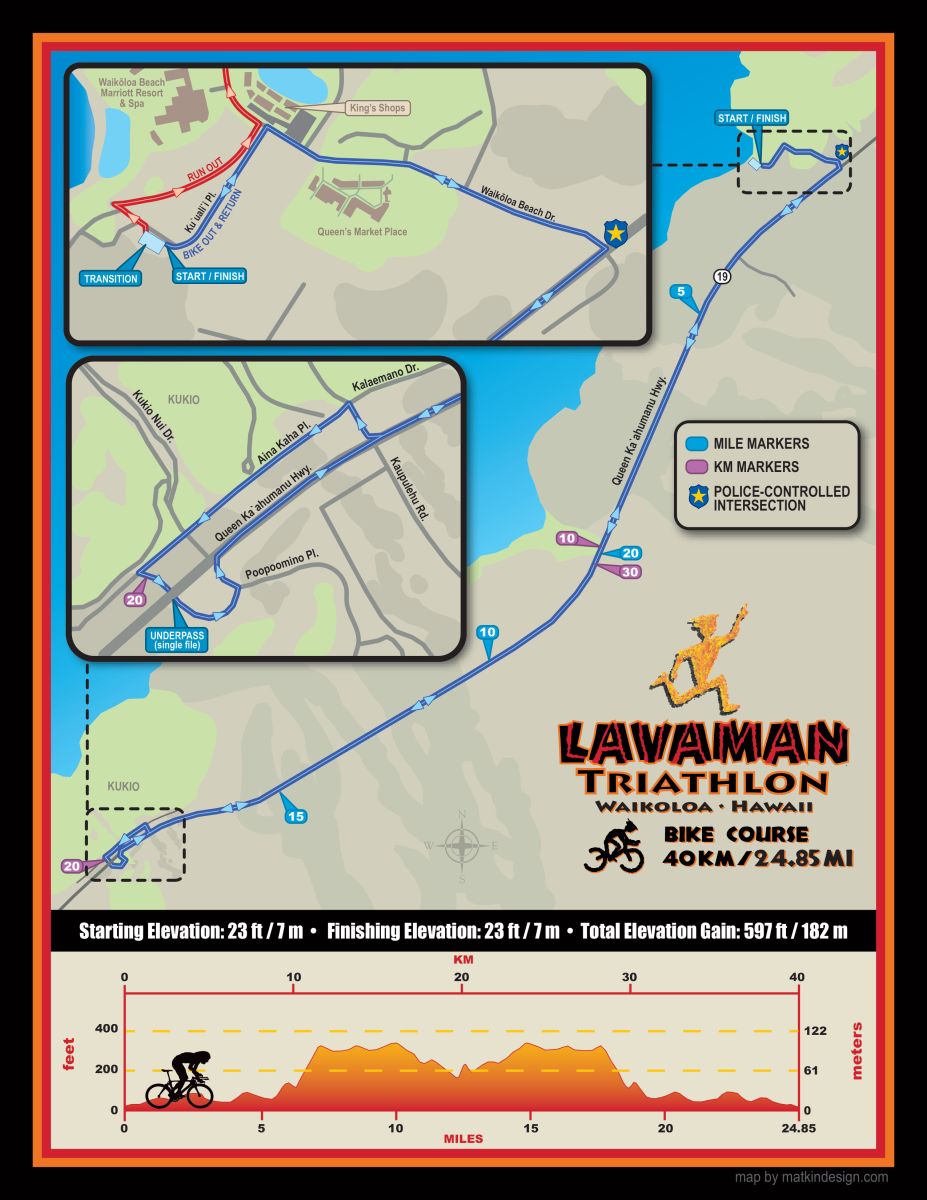 The Rules for everyone's SAFETY
A shirt or tri suit MUST be worn on bike.
Your Helmet MUST be worn while riding.
Bike frame number, helmet with number, and bib number are required for bike segment.
Relay timing chip exchange is ONLY at the Relay Exchange Tent before entering Transition after the swim.
No bike riding in Transition area.
When exiting Transition there will be a bike Mount Line and Bike Marshal. Do NOT mount prior to the designated line. Doing so will result in a penalty.
NO AUDIO DEVICES ALLOWED (IPODS, MP3 PLAYERS, HEADPHONES, PHONES)!
Stay in Bike Lanes for entire course!
Bike route is open to traffic with Police at intersections (Bikers will have right of way but MUST obey all police controls)
Bike to far right of shoulder as safely possible.
Passing on the left only.
This is NOT a draft legal race! Penalties will be imposed by marshals.
Crossing/passing over the white line into the highway will result in DQ. Passing in No Pass Zone will result in a time penalty.
Bikers MUST carry their own water bottles. There will be NO bottle exchange on the course.
Bikers MUST dismount at the Dismount Line before entering Transition.
Bike MUST be racked before you begin your run.
Relay exchange for the runner is ONLY at the Relay Exchange Tent before the start of the run.
RIDE THE BIKE COURSE
The Lavaman Waikoloa run is a 10 kilometer run that is one of triathlons most scenic. The run starts with a lava field trail, onto fast street sections and then a tour through the Hilton Waikoloa Village resort grounds. The run finishes with epic 1 mile single track beach trail to the sandy beach finish line. Please refer to course map for details.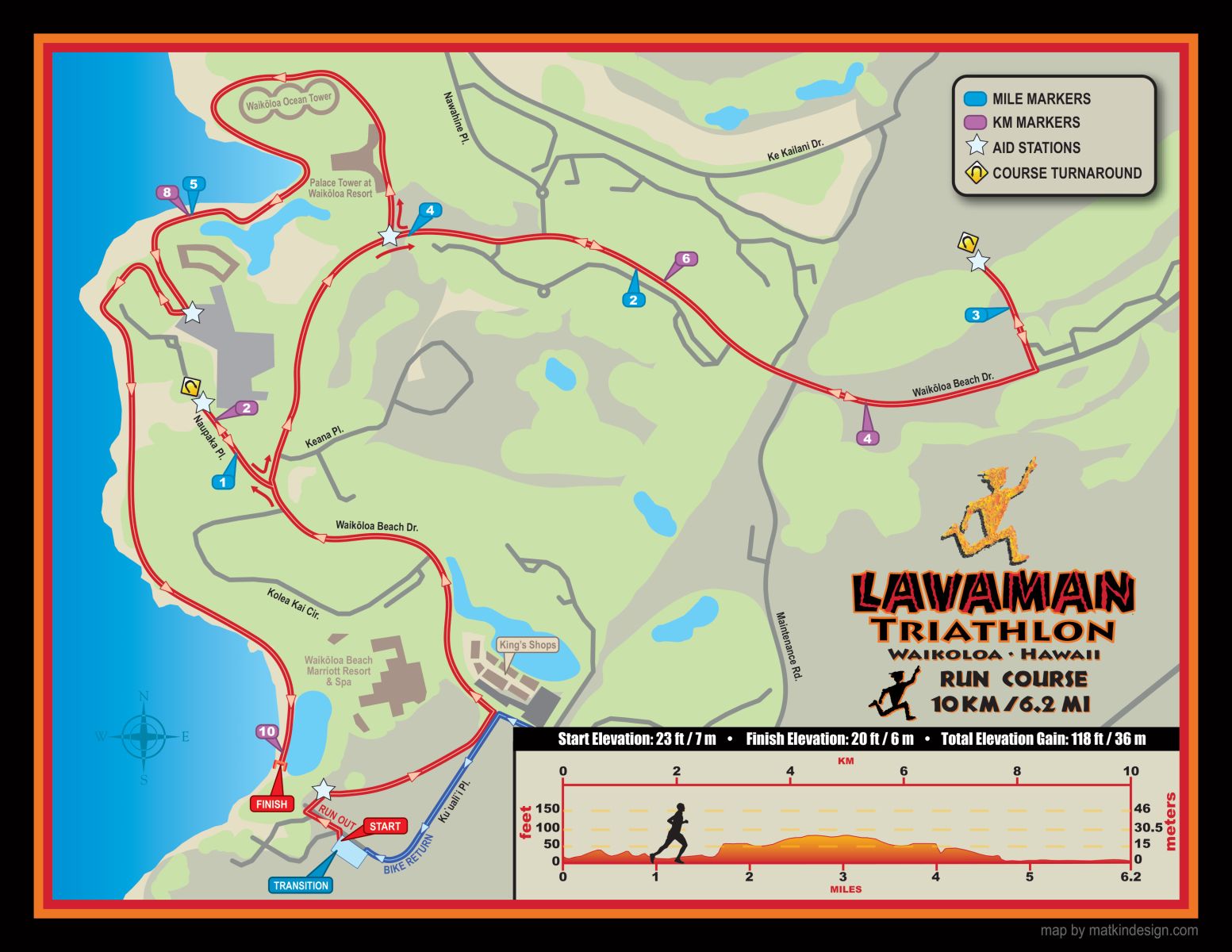 RULES
Bikers MUST rack bike before run.
Relay exchange for runners is ONLY at bike Relay Tent area when leaving Transition.
NO AUDIO DEVICES ALLOWED (NO IPODS, MP3 PLAYER, HEADPHONES)
You must wear shirt or singlet during run (chest must be covered).
Race number MUST be worn during run – race number must be in front and attached to shirt or race belt.
There will be 5 Aid Stations on the run. Water, Gatorade, and ICE will be available. Stations are SELF-SERVE. Coke will be availabe at Aid station 5 and at the Finish Line Aid station
Runners MUST throw away trash in aid stations trash cans.
Porta-Johns will be available at various points on the course. You MUST use restrooms.
Be aware and considerate of Hotel Guests, when running through Hilton.
A portion of the run course is on the ancient Kings Trail. You will encounter, lava, sand, crushed coral and dirt. The trail is very narrow so please use caution. We recommend a trail or training shoe (Not a racing flat) for the run.
Athletes will have an assigned racking space matching their bib number. There will be special racks for wide tires as well as an aid station table just before the exit chute. See map below for more details.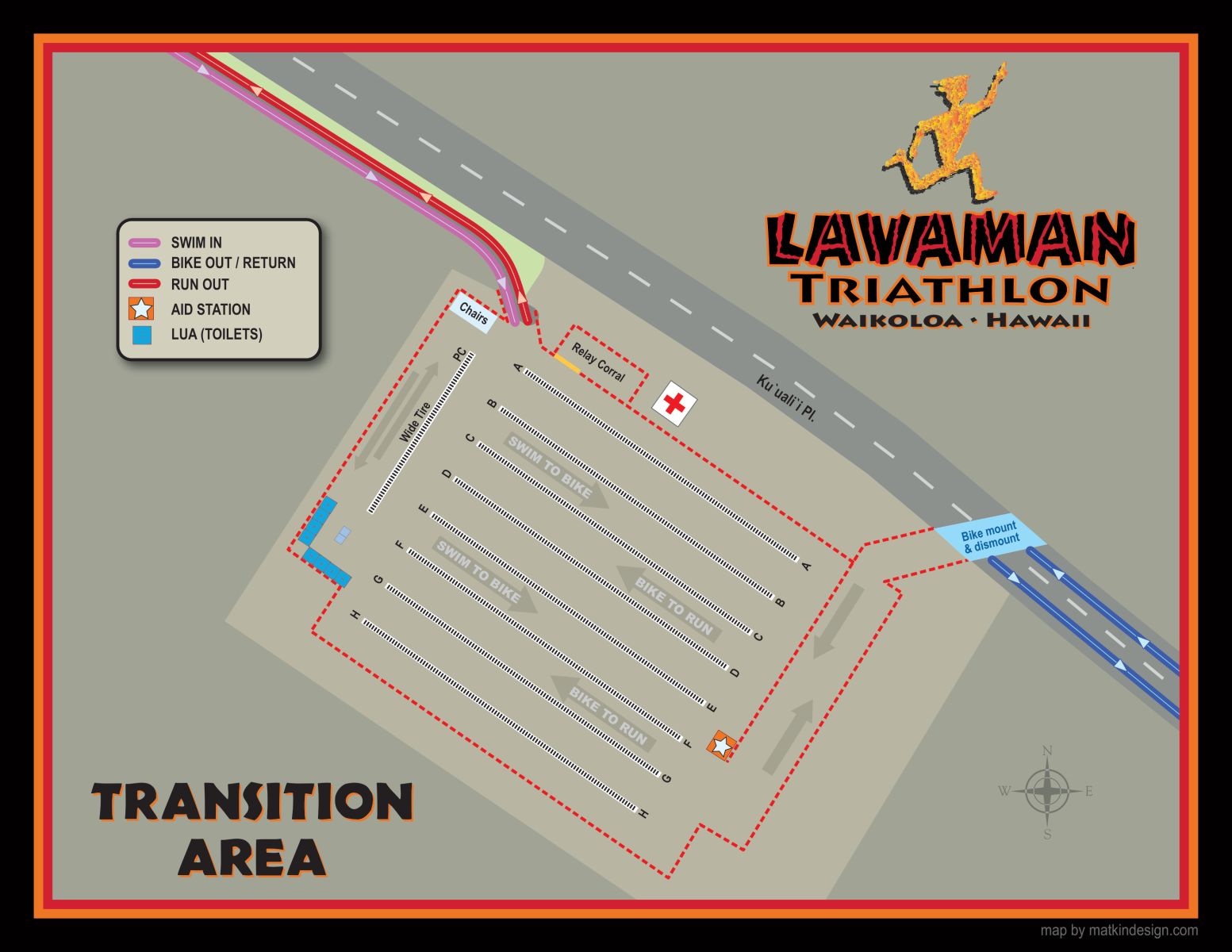 The Lavaman Waikoloa Duathlon run 1 is a 3.1k run that follows the first mile of the main run course. You will cross the lava field, turn left on to Waikoloa Beach Drive, then left at Naupaka Pl. Run around the roundabout past Aid Station 1 then return to transition on the same route. Please refer to course map for details.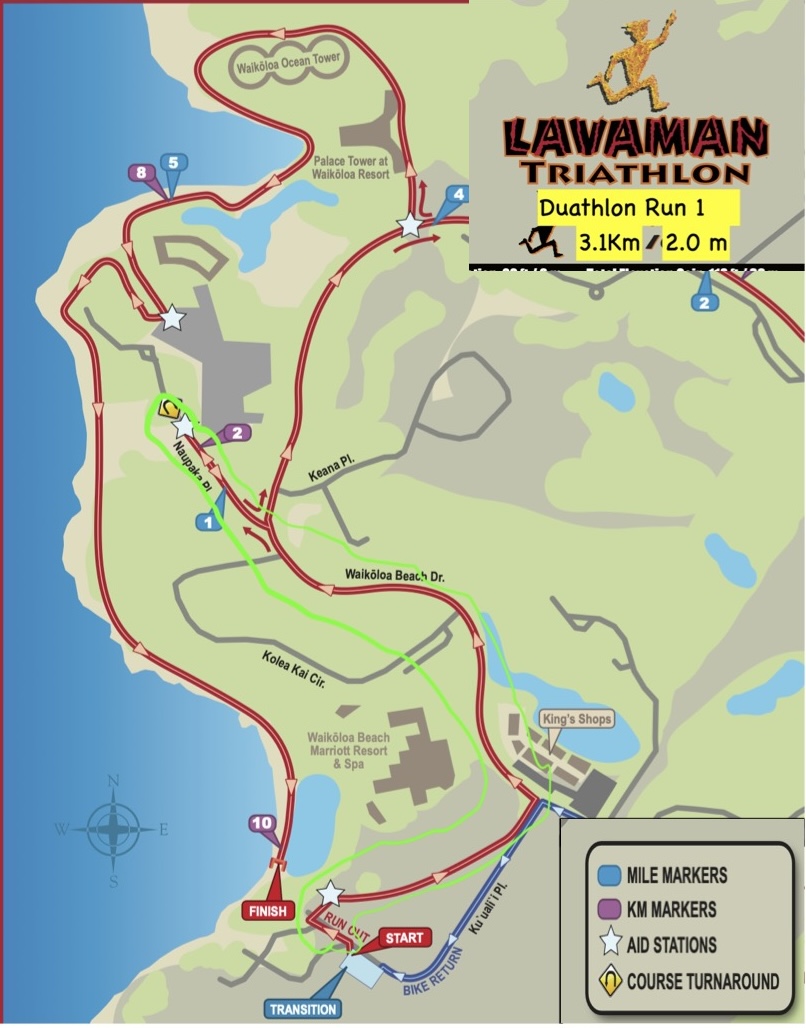 Cut off times for the Lavaman.
SWIM: Each swimmer will have 70 minutes to complete the swim The swim course will close 70 min after the last athlete enters the water. Swimmers not completing the course within the 70 min time allotment will not be allowed to continue.
BIKE: The bike course officially closes at 11:30. Athletes still on the course at 11:30 will be picked up and transported back to transition.
RUN: The run course is officially closed 5 hours after the start of the race. The award ceremony begins – Finish line will remain up and clock will remain running.
Race is officially over at 2pm. (Please note cut-off times may be adjusted due to race conditions & relative start times at the discretion of the Race Director & Head Referee)